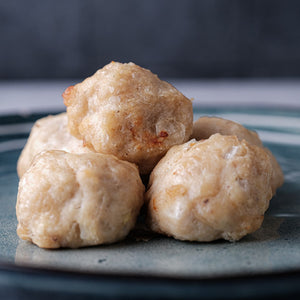 Heaven Eat Signature Chicken Meatballs
Regular price
RM30.00 MYR
Sale price
Healthy food tastes bad and is difficult to eat.
Do not be fooled! We're here to prove that healthy food DOES NOT have to taste boring and be difficult to eat. 
Our chicken meatballs are:
Juicy, tender, and delicious so you can stick to your diet plan and finally achieve your fitness goals!
Individually handmade with 100% real chicken (none of that unhealthy processed stuff)
Made with high-quality chicken that is completely hormone & antibiotic-free. We avoid using any MSG / Preservatives / Additives. Your health is always our #1 priority
Nutrition Facts per Meatball
| | |
| --- | --- |
|  Calories | 63 |
| Carbohydrate (grams) | 1 |
| Protein (grams) | 8 |
| Fat (grams) | 3 |
How to Prepare:
Defrosting your meatball:
Submerge the package in running water until thawed 
OR
Put it in the fridge one day in advance
Reheat (After defrost):
Microwave for 60 to 120 seconds
Pan-fry or grill for 60 seconds
Bon Appétit!
About Your Meatballs:

They can be stored up to 3 days in a fridge(under 7

°C)

 OR

 

60 days in a freezer (under -18

°C

)
All meatballs come in their own vacuum-sealed reheatable packs. These vacuum bags are food-grade material & BPA free, and can be used in a microwave, steamer or can even be submerged in hot water