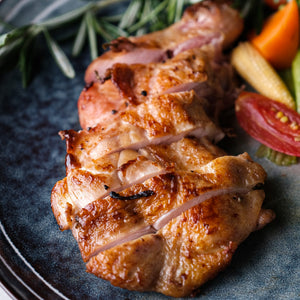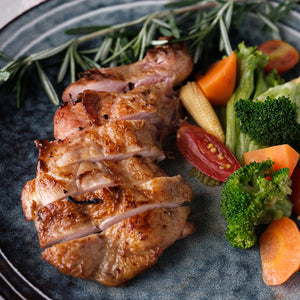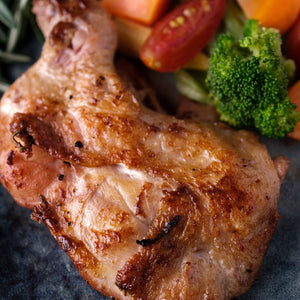 Regular price
RM15.90 MYR
Our chicken chops are bursting with flavour that's capable of quenching your thirst! Okay, that's a bit too extra...
But they're a really good substitute from your daily chicken breasts because it's a naturally more tender and moist cut of meat.
We still only use minimal seasoning and natural ingredients to ensure it's still keeping you on track with your fitness goals.

Chicken Chop Flavours:

(FYI: This is a great alternative for you guys on a ketogenic diet looking for high-fat and low-carb meals.)
Every pack contains 170-180g, high-quality, antibiotics & hormone free, cooked chicken thigh. That works out to around a raw weight of 200-220g.

Nutrition Facts per pack
| | | |
| --- | --- | --- |
|  Heaven Chicken Chop | Classic | Mala |
| Calories |  256 | 310 |
| Carbohydrates (grams) | 3 | 3 |
| Protein (grams) | 35 | 35 |
| Fat (grams) | 13 | 19 |
How to Prepare:
Defrosting your chicken chop:
Submerge the meal pack in running water until thawed 
OR
Put it in the fridge one day in advance
Reheat (After defrost):
Microwave for 120 to 180 seconds
Pan-fry or grill at medium-high heat for 3 mins each side
Bake or Air-Fry at 220'c for 5minutes, flipping in between
Bon Appétit!
🍗  About Your Chicken Chop:
Your meal packs can be stored up to 3 days in a fridge(under 4

°C)

 OR

 

60 days in a freezer (under -18

°C

)
All chicken chop come in their own vacuum-sealed reheatable packs. These vacuum bags are food-grade material & BPA free, and can be submerged in hot water.